GENERAL:
Comedy on State is an 18+ venue. Please read further down for detail.
All shows last about 90 minutes.

When are your regularly scheduled shows?
Wednesdays The Mic on State (open mic) doors 7:30pm, show 9:00pm
Thursdays @ 7:30pm
Fridays @ 7:30pm & 10:00pm
Saturdays @ 7:30pm & 10:00pm
There may be shows on non-regular show days, check out our schedule for current events!

Check in/Will call
All tickets are will call. You'll need last name of your reservation to check in. We do not mail/email or have physical tickets in advance. Please keep a photo ID handy, as well as your email confirmation, just in case there are any questions. 
How does your wait list work?
Our wait lists end at 5pm day of show. You may call or email info@madisoncomedy.com to sign up for our wait list and we will call you no later than 5pm the day of the show if anything becomes available. If you do not hear from us by 5pm that means we are at capacity. Please note, we do not offer wait lists for all shows, please contact us to inquire.
*If you do not hear from us by 5pm, you may sign up for our stand-by list. These are put out in house 90 minutes prior to the start of the show. Sign up must be done in person. We will know closer to the start of the show if there are seats available.
I don't see a show for a particular date, will there be a performance?
Yes! We have regularly scheduled shows Thursday through Saturday, however we might not have the show confirmed for the date you are interested in. We'll post the show on our social media and website as soon as possible, please check back soon!
How old do you have to be to come to Comedy on State?
All of our shows are 18+. If you are under 18 years old a parent or guardian must accompany you in order to attend the show (patrons under 16 years old will not be admitted). You must show your ID even if you are not drinking alcohol. Two beverage minimum applies to patrons under 21. We have many NA options available. Please inquire with the box office on age restrictions per show as this may vary.

How long does the show last?
Thursdays run about 1 hour 45 minutes. Friday and Saturday shows are about 1 hour 30 minutes.
What is a "Special Engagement" show?
Shows listed as a "Special Engagement" have restrictions. No coupons, discounts, or free celebratory admissions are permitted. Phone reservations are accepted, but a credit card may be required to hold your seats. Payment will be made upon check-in for the show and can be a different payment method other than that used to reserve seats. Please keep in mind, admission is due in one transaction no matter the payment method.
Are there restrictions to free tickets?
Yes, If you received a free ticket from your birthday, bachelor or bachelorette party, anniversary or promotion we have certain restrictions:

Valid based on availability

Not valid for any Saturday 7:30pm shows in general

Not valid for any special engagement shows
Do you serve food?
We do not serve food. There are many nearby options on State St. and around the Capitol Square, check out some recommendations from us! Please plan ahead to ensure your group gets to the show on time; seats are only guaranteed until exactly show time. No food or outside beverages are allowed in the showroom. NO CARRY IN FOOD OR BEVERAGES ARE PERMITTED
Is there a dress code?
Nice, casual attire is appropriate.

Can I bring in a backpack?
Sorry, no backpacks or large bags are permitted.
Where can I park?
We recommend using the State St/Capitol ramp located on Carroll St., behind our building. There may be free street parking around the area as well. 
Do you offer access for persons with disabilities?
Yes. There is an elevator located in the first floor lobby as you enter the building. Please mention when making a reservation if you or someone in your party has specific needs so we may be accommodating.

I don't recognize the comic's name, will the show be funny?
Yes, all of our acts are professional nationally touring comedians. There are so many talented comedians out there today; it is impossible for all of them to become household names.  That being said, comedy is subjective and we recommend you research the comedian you are coming to see.

Do you have group discounts?
We do not offer discounts for large parties; however, we do offer free admission for celebrations for shows that are not premium or special engagement.  See next question to see what celebrations apply!
Can I reserve a large party?
Of course! Credit cards are required to hold reservations of parties of six or more. There may be a cap on group sizes, so please call us to inquire. CANCELLATION/CHANGES POLICY: You have until 5pm the day of the show to notify us of changes in order to not be charged for someone who does not attend. Please let us know if someone is unable to attend even if you miss the 5pm deadline, we may be able to avoid charging for missing party members if we are able to resell the seat(s).*For cancellations of parties of 10 or more a 24 hour notice is required to avoid being charged for unused seats. You may be charged if cancellation requirements are not met*
I am celebrating something, do you do offer anything?
Yes! The person celebrating a birthday, bachelor/bachelorette party, or anniversary can get a free admission if mentioned at the door or via a phone reservation (Special Engagement/Online Only shows excluded). Tickets purchased online cannot be refunded, phone reservations are recommended to claim the free admission. The person celebrating will receive a celebration glass and tickets to return at a later date. It must be within a week of your birthday to receive the birthday discount.

Another patron is disrupting the show, what should I do?
Tell your server. We do our best to patrol the crowd but sometimes we are not able to spot someone who is disturbing the show. We are here because of you and we are committed to giving you the best possible comedy experience. Always let us know how we can improve your visit, whether it be turn up the sound or turn down the air.
I want to try comedy; can I perform at Comedy on State?
Yes! Every Wednesday night is the The Mic on State.  The show is at 9pm, admission is $5 and we have great drink specials. Sign up is online only Wednesdays 12pm to 7pm. 
BEVERAGES:
Please note: groups of 15 or more may be subject to 20% gratuity on your beverage bills. Any bills left open at the end of the night may be subject to 20% gratuity as well.
Why is there a 2-beverage minimum?
In order to continue providing you with the best comedians in the country at a low admission price we have to enforce a beverage minimum. This is standard at most clubs across the country.  If you choose to not drink there is a $3 charge per beverage not purchased.
If I order a drink from the bar does it count towards the minimum in the showroom?
No, only beverages ordered from your server in the showroom will count towards the 2-beverage minimum.
Can we split our bills?
Yes, please ask your server at the beginning of the show if you would like your bills split.

Do we have to drink alcohol to fulfill the beverage minimum?
No. We offer an extensive non-alcoholic beverage menu with coffee drinks, ice cream drinks, slushy drinks, soda, coffee and more. Anything except tap water will count towards the minimum.
What if I decide to not drink anything?
If you feel fully hydrated it is not a problem. There will be a $3 charge for each drink not ordered to fulfill the 2 beverage minimum requirement. This charge covers our costs so we can continue providing you with great laughs!
When will I receive the beverage bill?
Tabs are kept throughout the night and all bills are given out at the end of the show in order to not disrupt the performance.
YONDR:
What is Yondr?
Yondr creates smart device-free spaces for some comedy shows. The Yondr system is a simple solution to a technological problem that allows you to maintain possession of your phone at all times. These pouches are utilized for some, but not all, shows at Comedy on State.
What is a phone-free show?
A phone-free show allows artists and audiences to enjoy the performance without distraction, creating a better experience for everyone. No cell phones, smart watches, cameras or recording devices are permitted in the performance area.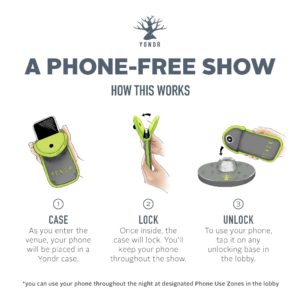 How does it work?
Upon arrival at the venue, all phones, smart watches, and any other smart devices, are placed in Yondr cases by our staff and will be unlocked at the end of the show. Guests maintain possession of their device at all times and may access phones in the designated Phone Use Areas throughout the venue at any time. Phones will then be unlocked immediately after the performance upon exit from the venue.
What is a Phone Use Area?
Guests are able to use their phones at designated Phone Use Areas within the venue. All phones must be secured in a Yondr case before guests re-enter the performance space.
I didn't know about the phone policy. What if I don't want to lock my phone?
This is the show policy, and as a result we cannot allow entry to any guests with cell phones or smart watches if they are not secured in a Yondr case. For Yondr designated shows, you MUST lock your device in a pouch. If you do not want to lock up your device, you may take it to your vehicle and return to the venue.
What if I need to use my device during the performance?
You may exit the showroom at anytime to find a staff member who can unlock the Yondr case for you.
PURCHASE INFORMATION:
ALL SALES ARE FINAL. No refunds or exchanges.

You must be 18 years or older to attend. Refunds are not given to minors.

Place one reservation per party. If you want to be seated with another party and did not note this in the Reservation Comments, please call or email us with the last name of the party you are joining. Without this info, we are not able to guarantee combined seating.

If you are looking to purchase additional tickets for your reservation, please call us or purchase online using a different email than that used for your original reservation.

Please inform us of any wheelchairs so we are best able to accommodate your party for seating.

Admission prices, performers, and show times are subject to change.
BEVERAGE MINIMUM / DRINK PURCHASE:
THERE IS A TWO BEVERAGE MINIMUM PER PERSON IN THE SHOWROOM.

It is your responsibility to inform all party members of the beverage minimum requirement before attending the show.

Shots or beverages purchased at the bar do not count towards the minimum; only beverages purchased from your server in the showroom will count.

Both alcoholic and non-alcoholic beverages count towards the minimum.

A tab is kept by your servers throughout the show and given at the end of the show to prevent disrupting the performance.

Beverages are NOT included in admission price.
LARGE PARTY CANCELLATION/CHANGES POLICY:
Credit card required to hold reservations for parties of six or more. You have until 5pm the day of the show to notify us of changes in order to not be charged for someone who does not attend. Please let us know if someone is unable to attend even if you miss the 5pm deadline, we may be able to avoid charging for missing party members if we are able to resell the seat(s).*For cancellations of parties of 10 or more a 24 hour notice is required to avoid being charged for unused seats. You may be charged if cancellation requirements are not met*
ARRIVAL / SEATING:
Seating begins 45 minutes prior to show time and is on a first come first serve basis.

Based on reservations for the evening and your arrival time, your group may be sat with another party.

You must claim your reservation by show time. If you are not here on time there is a chance your tickets will be given to anyone on a wait list.

SHOW RULES:
Cell phones must be turned off or set to silent. Never take a phone call during the show. If it can't wait, please go to the bar to use your phone.

Table Talk – must be kept to a minimum. Your group will be given one warning. Any further distractions may result removal from the venue.

No Flash Photography permitted

No Recording: Each comedian owns the rights to their own material, you however do NOT.

Do Not Heckle the Comedian: Heckling is interrupting the performance to upstage, disparage, or throw off the comedian. It is never acceptable, and the quickest way to ruin the show for everyone. It is also the quickest way to ejection.

Do Not Interrupt the Comedian: The common excuse for this is "I'm helping the comedian" and "that's what you're supposed to do at Comedy Clubs!" Comedians are professionals, they do not need help. Exception: If a comedian directly engages you in conversation, it is ok to respond. Some of the best comedy happens this way, and can make for a memorable experience. Be ready to let it go when the bit is over.